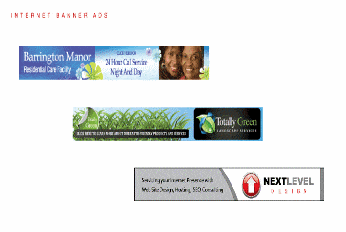 Service Price
$200.00

Service Price
Service Description
Internet ad designs to publisher specs. We provide a proofing copy on a website so you can see it as it will appear when placed. We also provide a final copy to the publisher specs. Prices vary from $55 to $255 based on the size. The prices of ads with motion vary greatly depending on complexity of project and will be quoted appropriately. We can quote before your purchase or after and the purchase price will be deducted from the quote.
Our prices are very reasonable so don't hesitate to request a quote for any of your design projects for internet, print, or other media. Our creative talent includes artists and designers who work on diverse types of media and creative projects including blogs, websites, internet storefronts, organizational membership websites, internet app creation, internet ads, company logos, business cards, animation flat & 3D, video, audio, original music creation, and more.

If a newly designed ad is to be placed on a willing site, or is hosted by us, We:
include an embedded link to a webpage that will open in the same or a new window.
include the alt tag description associated with the ad.
do not charge to place it there.
do not include, and it may be extra, for hosting ads.
All designs include, if used, stock art from our inventory of photos. Non-inventory photos to be quoted as requested or provided by the customer. Customer to provide all other photo and copy content.
Please follow and like us: